Diesel fuel ANTIGEL IFO
Antigel IFO is a unique complex protection of diesel fuel from low temperatures and ensuring its efficiency even after a long parking. The additive is developed by IFOTOP specialists on the basis of the innovative N-methyl-p-anisidine molecule.
Diesel fuel ANTIGEL IFO:
Comprehensive support for diesel fuel at low temperatures.
One of the most important aspects of the use of different additives and supplements is their environmental safety. N-methyl-p-anisidine under the legislative documents of the European Union on the classification, labeling and packaging of chemical substances and mixtures (Regulation EC 1272/2008), as well as the worldwide System of Classification and Labelling of Chemicals (GHS), N-methyl-p-anisidine has a low degree of toxicity (4), in contrast to N-methylaniline, which has a high degree of toxicity (3).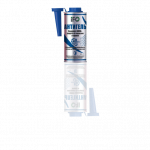 Need more information?
Contact us